https://www.buzzfeednews.com/article/zahrahirji/youtube-climate-change-denial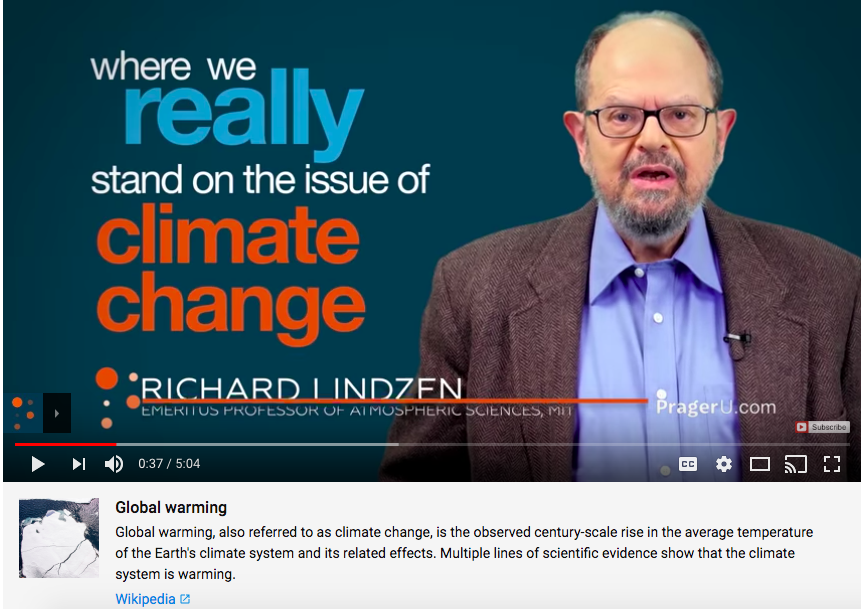 YouTube is now adding fact checks to videos that question climate change, BuzzFeed News has confirmed, as a part of its ongoing effort to combat the rampant misinformation and conspiratorial fodder on its platform.
On July 9, the company added a blurb of text underneath some videos about climate change, which provided a scientifically accurate explainer. The text comes from the Wikipedia entry for global warming and states that "multiple lines of scientific evidence show that the climate system is warming."
This new feature follows YouTube's announcement in March that it would place descriptions from Wikipedia and Encyclopedia Britannica next to videos on topics that spur conspiracy theories, such as the moon landing and the Oklahoma City bombing. In doing the same for climate videos, the company seems to be wading into more fraught and complex intellectual territory.
"I'd guess that it will have some influence, at least on those people who don't know much about the subject," Anthony Leiserowitz, director of the Yale Program on Climate Change Communication, told BuzzFeed News by email. "Might be confusing to some people, but that's probably better than just accepting the denier video at face value."
YouTube has not disclosed the full list of topics it is targeting. But a Wikipedia postto its administrators in mid-July offers some clues, listing seven topics the company was helping clarify: global warming, Dulce Base, Lilla Saltsjöbadsavtalet, the 1980 Camarate air crash, the Federal Emergency Management Agency, the Kecksburg UFO incident, and the MMR vaccine. The two organizations appear to be working more closely since the launch of YouTube's policy, which Wikipedia did not know about in advance.
Google, which owns YouTube, has struggled to excise misinformation from its platforms. In November 2017, it tried a feature that fact-checked descriptions of newspapers and other items that appear in search results but suspended it in January after some mistakes triggered complaints.