This morning's key headlines from GenerationalDynamics.com
Climate change superstars Germany and Norway humiliated at climate change conference
African leaders once again furious that they won't get a climate change bonanza
The flaws in the climate change story
Climate change superstars Germany and Norway humiliated at climate change conference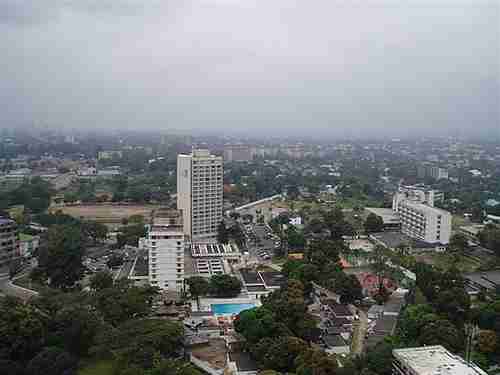 Kinshasa, the capital city of Democratic Republic of Congo, has benefited enormously from carbon emissions
The latest annual United Nations Climate Change Conference, COP23, ended on Friday accomplishing nothing but a new collection of news stories about politicians from countries around the world taking credit for climate change leadership, and expressing outrage that Donald Trump announced that he was leaving the previous climate change agreement, and thereby allowing the world to slide into planetary climate disaster.
German Chancellor Angela Merkel, in particular, has been a world leader in feigned environmental concern. Years ago, she promised to close Germany's nuclear power plants, saying that they were too dangerous. She has repeatedly lambasted Trump for pulling out of the Paris climate change agreement.
But it now turns out that Germany is not anywhere close to meeting its CO2 emission commitments, and in fact is going backwards. Germany's carbon emissions have not declined for nearly a decade, and in fact have been increasing for the last three years.
Germany did reduce carbon emissions in the 1990s, but even that accomplishment is dodgy. In 1991, Communist East Germany merged with West Germany to form today's Germany. East German factories were still the same ones that the Soviets had built in the 1950s when they annexed East Germany, and by 1991 those old, creaky factories were spewing huge amounts of environmental poisons, including CO2. During the 1990s, the West Germans spent huge amounts of money to modernize the East German factories, and in doing so they reduced carbon emissions.
But those were the easy days. The commitment to close all nuclear power plants by 2022 means that Germany's huge economy is going to depend on coal for energy, and today 40% of German energy supply is coal-based. So Merkel is going to have to do a U-turn on either nuclear-generated energy or coal-generated energy, and either way, there is no chance at all that Germany will meet its climate change commitments.
Norway is another environmental superstar that is having similar problems. Norway, with its cold, clean, crisp Nordic climate, has always appeared to be an environmental model, if you did not count the fact that it is a major producer of oil and gas, which are its most important exports.
In 2015, Norway awarded oil licenses to Statoil, Chevron and other companies, allowing them to drill for oil in Norwegian waters in the Barents Sea.
Well, Greenpeace and other environmental groups are suing Norway, saying that the awards are unconstitutional because "Under article 112 of the constitution … the Norwegian state has a duty to not hurt the climate." According to Greenpeace: