By Hilda Heine – Wednesday 15 November 2017 09.00 GMT
The women of the Marshall Islands and the Pacific have been fighting colonialism and injustice for a long time. They bore the brunt of the long term effects of nuclear testing, and women leaders like Lijon Eknilang and Darlene Keju-Johnson brought these issues to the international stage.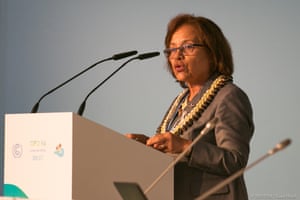 For women, fighting for justice – including climate justice – can be downright dangerous. Last year was one of the deadliest for women fighting on the frontlines for human rights and environmental justice. Environmental defenders are being killed at the rate of almost four a week across the world, a staggering toll that disproportionately affects female activists and indigenous leaders. Among the most high-profile cases was Honduran indigenous Lenca leader Berta Cáceres, who was murdered in 2016. And for every woman like Cáceres who is killed, dozens of others are threatened with violence or destruction of their home or village or vital resources.
Yet despite this perilous landscape, where corporations and even the governments who are in their pocket threaten life itself, these women continue to stand up for freedom of expression and participation, for land rights and the rights of indigenous and rural communities. For sexual and reproductive health and rights, against harassment and gender-based discrimination. And for the right to preserve a safe, liveable environment for present and future generations.