Contact: [email protected]
"Morano has risen to be the most savvy media manipulator of the climate skeptic crowd" – Morano "pretty much chewed up Bill Nye the Science Guy on CNN with Piers Morgan a couple of years ago." – Randy Olson in Dot Earth column at New York Times – April 17, 2016
Climate Depot is "a great aggregation of so many stories — mostly of the radical, unbelievable apocalyptic kind — and it is great reference point for you. You'll be able to find whatever you want. You'll be able to find people who advocate for it and have their arguments blown to smithereens." – Rush Limbaugh during his February 14, 2018 nationally syndicated radio broadcast."
"You are like a one-man general fighting this effort and you have a complete comprehension of it." – Nationally syndicated radio host and Fox News Host Mark Levin to Morano during March 16, 2018 interview.
"I have never met Marc Morano, the author of this very interesting book, but I know him well from his excellent blog Climate Depot, which I read regularly." – Dr. IVAR GIAEVER, Nobel prize-winning physicist
"Marc Morano — perhaps the most notorious climate denier in the U.S." – Media Matters – September 17, 2020
"[Morano] lays a lot of what this is all about and so many of the false and unscientific basis of which this cause is based on [his] website ClimateDepot.com. I hope people go to it. It's causing food shortages, it's causing famines" – Rachel Campos-Duffy on the climate agenda on Fox & Friends – Fox News Channel – October 15, 2022
"Marc Morano is to the climate change cult what Galileo was to the believers in a flat Earth. He uses observation, history, and, yes, science to prove the global warming crowd are full of hot air. He is a thorn in the side of those who want to control every aspect of our lives."

—CAL THOMAS, nationally syndicated columnist
Morano is "just a troll with a love for conspiracy, a hatred for science and reality." — Associated Press' Seth Borenstein – April 22, 2020
Marc Morano is "the Grand Poo-Bah in the denier racket." — Peter Dykstra, Former CNN Exec Producer – October 16, 2020
"Marc Morano is number one. Morano is truly the Pete Rose and Hank Aaron of climate contrarians." – Skeptic Steven Hayward of the Powerline Blog – August 15, 2019.

Morano is "clearly someone who's just a straight climate denier." – UN scientist Robert Watson, former IPCC chair – May 24, 2019
Morano is "a reminder (if one was needed) that most climate deniers are sociopaths. There is no 'mode of discourse' that will make Morano suddenly stop being an awful person…" — NASA's Gavin Schmidt, Director of the NASA's Goddard Institute for Space Studies – September 12, 2020
"Morano is one of a relative handful of self-described climate 'skeptics' who have wrestled thousands of the world's leading scientists to a standstill of their own…. They are the  ones who have convinced millions that there is no scientific consensus that climate change is real and human-caused." – Environmental columnist Rick Holmes – July 21, 2015,  Brookline Wicked Local
"Morano is the real-world fossil fuel industry version of Nick Naylor." – UK Guardian – July 25, 2018
Morano is "an evil person…a badass person." – Canadian Environmentalist David Suzuki – December 10, 2019
"Morano left the Senate staff in 2009 for a private-sector career as the P.T. Barnum of climate denial." — Warmist & former CNN producer Peter Dykstra
Morano is the "ringleader" of the "climate deniers." – Columnist Dana Nuccitelli – UK Guardian – December 14, 2015
Morano "is one of the most active pushers of climate science denialism in the country." – DeSmogBlog — September 24, 2020
Morano is "one of the most powerful climate skeptics" – German Magazine Süddeutsche – December 20, 2015
Marc Morano Biography
Climate Depot publisher Marc Morano has authored numerous books on climate, energy, and the environment. He serves as executive editor and chief correspondent for CFACT's award-winning ClimateDepot.com, a news and information service he founded in 2009. In a 2019 Study in the Journal Nature, Morano was ranked the NUMBER ONE 'climate contrarian' in the media! (#1 out of 386 skeptics). Morano holds the distinction of being arrested and evicted from the 2016 UN climate summit by armed UN climate cops. He served as a senior staffer at the U.S. Senate Committee on Environment and Public Works. Morano's latest book, The Great Reset, was released in 2022.
Morano is the author of the 2021 book, Green Fraud: Why the Green New Deal Is Even Worse than You Think and the author of the best-selling 2018 book, "The Politically Incorrect Guide to Climate Change."  He is also the award-winning producer, writer, and host of Climate Hustle — a film released in 2016 to hundreds of U.S. theatres — and Climate Hustle 2 in 2020.
He is a frequent guest on radio and television talk in the U.S. and internationally, including CNN, Fox News, the BBC, Sky News, Newsmax, and One America News. He has been profiled in the New York Times, Esquire magazine, Rolling Stone, and numerous others. In 2015, Morano was at the center of an international media firestorm that erupted after wanted posters were plastered all over the streets of Paris during the UN climate summit, with Morano's face declaring him a "Climate Criminal."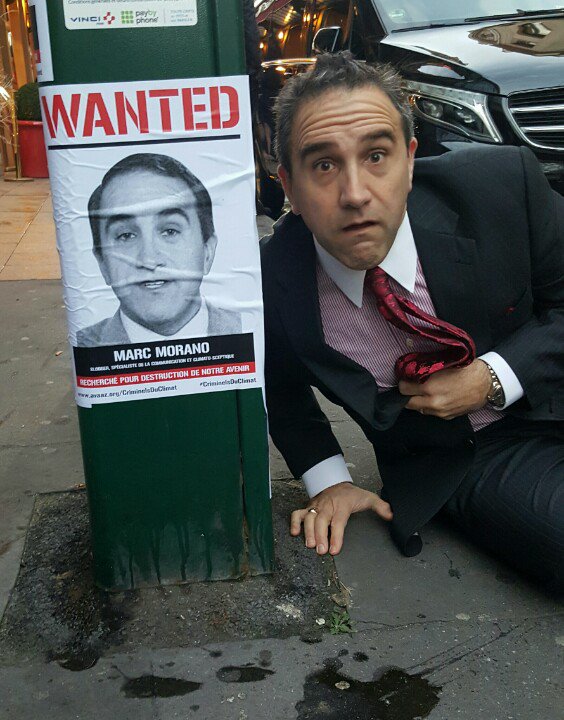 In 2016, Morano was forcibly detained and removed by armed UN climate cops from the United Nationals 2016 COP 22 climate summit in Markakesh Morocco. His briefcase was seized, and he was stripped of his UN credentials for physically shredding pages of the Paris climate pact with a paper shredder at the summit and standing next to a cardboard cutout of then-President-Elect Donald Trump. See: 2016: UN Armed Security Shuts Down Skeptics After SHREDDING UN Climate Treaty at Summit Next To Trump Cut-out
. 
#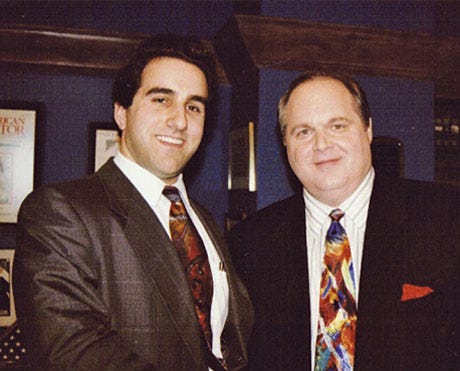 From 1992 to 1996, Morano served as a reporter for the nationally syndicated "Rush Limbaugh, the Television Show." He next served as an investigative reporter for Cybercast News Service and as a reporter and producer for the nationally syndicated television news magazine "American Investigator." In 2000, his investigative television documentary "Amazon Rainforest: Clear-Cutting the Myths" created an international firestorm. During his tenure as senior advisor, speechwriter, and climate researcher for U.S. Senator James Inhofe (R-OK), he managed the award-winning communication operations of the GOP side of the U.S. Senate Committee on Environment and Public Works.
Rolling Stone Magazine declared Morano one of the planet's 17 "climate killers" in a cover story in December 2009. Rolling Stone called Morano "the Matt Drudge of climate denial" and "a central cell of the climate-denial machine." Morano also received the Accuracy in Media journalism award in February 2010 for his key role in reporting on the global warming Climategate scandal. In June 2010, Morano given an award by Doctors for Disaster Preparedness (DDP) for "demonstrating courage and achievement in defense of scientific truth and freedom. In August 2010, Climate Depot and Morano were honored again by being inducted into Townhall Magazine's "Townhall of Fame." The magazine noted Climate Depot is "the No. 1 online destination for the truth behind today's global warming hysteria." In December 2010, The Daily Caller awarded Senator Inhofe and Climate Depot the '2010 Award for Political Incorrectness'. Daily Caller noted that "Morano, possessed a rapier-like wit and is the master of parody and satire." In June 2011, Climate Depot received another award at the Heartland Institute's 6th climate conference in DC.
In 2012, Morano was (dis) honored by climate activists at Media Matters as the "Climate Misinformer of the Year." See: Gore touts Morano as 2012's 'Climate 'Misinformer of the Year': 'ClimateDepot.com founder Marc Morano has been called 'the Matt Drudge of climate denial,' the 'king of the skeptics'
In 2014, Morano went Hollywood and was featured in Variety Magazine – Called 'charismatic professional climate-change misinformer'
In 2015, Morano was at the center of an international media firestorm erupted after wanted posters were plastered all over the streets of Paris during the UN climate summit with Morano's face declaring him a "Climate Criminal."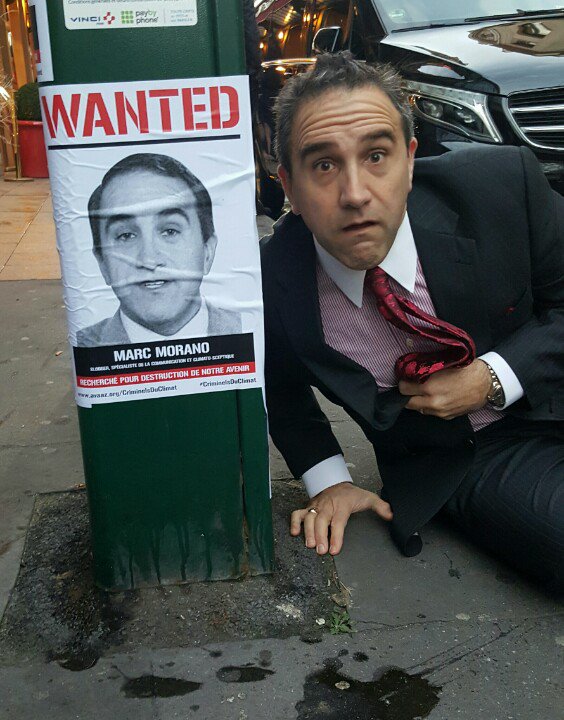 In 2016, Morano was (Dis) Honored Again! Named #2 on 'TOP 10 CLIMATE DENIERS' list by DiCarpio & National Geographic
See below: Keynote Speech by Marc Morano on the case for climate skepticism
In 2015, Morano appeared in the Sony Pictures climate documentary. See: Reviews are in! Skeptic Morano as villain in warmist film is 'terrifyingly impressive, sadistic' – 'The doc's most engaging character' – 'A magnificent antihero, a cheery, chatty prevaricator' – 'Slick' – 'Scary' – 'A loathsome mercenary' – 'Sleazy spin doctor'
New Warmist film by Sony Pictures, 'Merchants of Doubt', portrays Marc Morano as evil nemesis/arch-enemy of climate change promoters – Morano is 'a grinning-skull nihilist'
Global warming movies sets out to smear skeptics, but 'features 'a semi-affectionate portrait of professional attack dog Marc Morano'
New York Times: Morano exemplifies 'slickness, grandiosity & charm' – New York Times: 'Morano is a cheerful and unapologetic promoter of climate-change skepticism'
Post: 'Morano is, arguably, the star of film' – 'Morano makes for a jocular — and weirdly unapologetic — advocate for what can only be called ignorance'– 'I'm not a scientist,' Morano jokes, flashing a huge, telegenic grin, 'but I play one on TV.'
Climatologist Dr. Judith Curry: 'Morano is actually quite broadly knowledgeable about climate science and the associated politics'
Warmist review of Merchants Of Doubt criticizes film for being 'swindled by the charm of charismatic talking heads' like Morano– Warmist Naomi Oreskes: 'People like Morano have made a career out of being contrarians, and they are very good at it. When a scientist comes up against a well-trained, savvy person, scientists will always lose in the debate.'
The New York Times profiled Morano in April 2009, noting that he used science as a "Political Battering Ram." In April 2010, Esquire Magazine featured Morano in a 6500 profile. See: Esquire Mag. Profiles Climate Depot's Morano in 6500 Word Feature Article: 'This Man Wants to Convince You Global Warming is a Hoax…He seems to be winning'
Morano's Senate website won the coveted 2007 Gold Mouse Award for being the "Best of the Best." The award was made possible by the John F. Kennedy School of Government at Harvard University and the National Science Foundation. Morano's website got so many readers in January of 2007 that the volume shut down the entire Senate website, including every Senator's personal websites. Morano spearheaded the 2007 groundbreaking report of 400-plus dissenting scientists and the follow-up 2008 report of 650-plus scientists dissenting from man-made global warming fears. In 2010, a new 321-page "Climate Depot Special Report" featured over 1,000 international scientists who had turned against the UN IPCC. Morano released his "A-Z Climate Reality Check" report at the UN COP17 conference in South Africa in December 2011.
Morano, who has spent years researching climate change, environmental, and energy issues, traveled to Greenland in 2007 to investigate global warming claims. As Senate staff, Morano also attended the United Nation's climate eco-conferences held in Kenya, Indonesia, and Poland in 2006, 2007, and 2008.
Excerpt from 2018 Book, "The Politically Incorrect Guide to Climate Change."
★★★★★
On November 16, 2016, at the UN climate summit in Marrakesh, Morocco, I found out firsthand just how much the climate crowd fears President Trump and his policies. When I unfurled a lifesized image of Trump, all hell broke loose. UN climate
delegates reacted like vampires to a cross. The Associated Press reported on my day: "An American climate change skeptic has shredded a copy of the Paris agreement on global warming at the U.N. climate conference. Marc Morano, who
runs a climate skeptic website, was led away by security guards after the stunt outside the media center in Marrakech. Morano put the document in a paper shredder and said that's what will happen to the Paris deal once Trump takes office.
Wearing a red Trump hat, he said 'the delegates here seem to be in deep denial about President-elect Trump's policies.' As security guards led him away, he said 'we will not be silenced.'"

Armed UN "climate cops" swarmed me and removed me from the UN conference. My CFACT colleague Craig Rucker and I were literally pushed out into the desolate desert outside the perimeter of the Marrakesh conference center. Moments later, armed UN security commandeered my briefcase and confiscated my papers inside, which were never to be returned.
Morano has held both White House and Capitol Hill Press credentials and was a member of the Society of Professional Journalists. He has attended and reported on numerous international eco-conferences and attend the annual UN-sponsored Climate Summits.
Morano was the investigative reporter for Cybercast News Service in Washington, DC. He has also served as a reporter/producer for the nationally syndicated television newsmagazine "American Investigator."
Morano served as the television reporter/producer for the nationally syndicated "Rush Limbaugh, the Television Show," during the show's four-year run (1992-1996). Morano, referred to by Mr. Limbaugh as "Our Man in Washington," had the dubious distinction of being the first journalist in history to have his television camera seized at the Clinton White House while on assignment with the Limbaugh show.
Morano was born in Washington, DC, and grew up in McLean, VA. He received a Bachelor of Arts in Political Science at George Mason University.
#
From 2009:
Climate Depot: Redefining Global Warming Reporting
Marc Morano, former Communications Director for the Senate Environment & Public Works Committee and senior aide, speechwriter, and climate researcher for Senator James Inhofe (R-OK), is the executive editor and chief correspondent for ClimateDepot.com, a pioneering climate and eco-news center. The news effort, begun in April 2009, is a special project of the Committee for a Constructive Tomorrow (CFACT) and is the most comprehensive information center on climate news and the related issues of environment and energy.
ClimateDepot.com, spearheaded by Morano, will serve as an information clearinghouse and one stop shopping for reporters, policymakers, students, scientists and concerned citizens to get the latest information on global warming and other key environmental and energy issues. The news center will offer a balanced perspective and serve as an ombudsman of the 4th Estate's Eco-Reporting. The news center is a special project of CFACT, a Washington, D.C.-based public policy organization that has been working since 1985 to infuse the environmental debate with a balanced perspective, and to promote market-based and safe technological solutions to various public-interest concerns.
"The goal is to expand on key elements from the award-winning Senate EPW website and quite simply revolutionize climate and environmental news dissemination. Unlike much of the establishment media, CFACT's news outlet will provide the public with links to all sides of the climate and environmental debate, with links to Gore's blog, environmental groups, the United Nations, as well as skeptical voices. It is very hard to get accurate information on global warming and environmental issues. Much of what the media reports is simply a regurgitation of the rhetoric from partisan and ideologically driven environmental groups, foundations, and the United Nations, which are spinning data to promote a cause," Morano said.
Contact: Marc Morano