https://www.zerohedge.com/markets/impossible-foods-makes-organization-changes-fake-meat-fad-simmers
BY TYLER DURDEN
If readers have been paying attention, global elites and their corporate-state media clowns have been pushing "meat alternatives" for several years.
Technocratic elites have decided in the so-called "Great Reset" in a post-COVID world that peasants should eat plant-based meat instead of the real thing as a way for "sustainable nutrition."
Fake meat startups such as Impossible Foods and Beyond Meat are some leaders in the space. Though recent developments suggest shifting people onto a fake meat diet is faltering.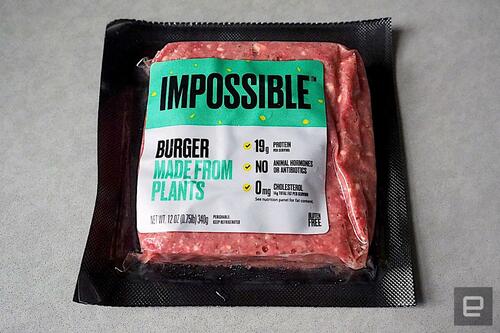 For example, Impossible Foods, a producer of fake meat, told Bloomberg on Monday that it has terminated employees in an internal reorganization effort.
"Earlier this month we made some organizational changes on several teams to ensure the functions supporting our business are best aligned with our strategy," said a company spokesperson.
"This included downsizing some teams, and as a result a small number of employees were impacted," the spokesperson continued. 
The spokesperson said that about 15 employees were affected by Impossible's 800 employees worldwide.
An internal shakeup could be due to the slow adoption of fake meat.
Another plant-based meat company, Beyond Meat, reported lower than expected third-quarter sales and slashed revenue guidance for the fourth quarter.
Short-sellers, such as Jim Chanos of Kynikos Associates, one of the world's best-known short sellers, have piled into the company with bearish bets. Earlier this month, the stock was one of the most shorted on US exchanges. Shares currently trade at the $57 handle, nearing the IPO level of $45.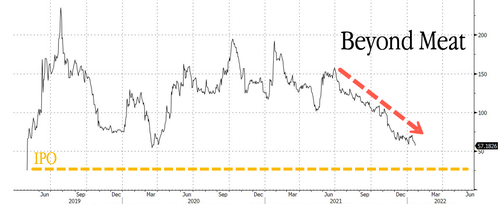 The problem with Beyond Meat is that growth in fake meat sales collapsed in 2021.
Is the fake meat trend just a fad? If so, this would be problematic for the elites, such as Bill Gates, who has made significant investments into this space. Thanks, but no thanks, our readers will stick with good ole' beef and other real meat instead of the junk Gates pushes.