Climate Depot's publisher Marc Morano statement on President Elect Donald Trump's selection of Oklahoma Attorney General Scott Pruitt pick for EPA chief: 
"President-Elect Trump's appointment of Scott Pruitt is a breath of fresh air. No longer do we have to suffer under President Obama's ridiculous EPA 'climate' regulations. It is also refreshing that a Republican President is not throwing the EPA over to the green activists and the media by appointing a weak administrator. Christine Todd Whitman he is not! See: Bravo! Trump appoints 'a fierce critic of the EPA' — to head EPA! & Cheers! Trump picks leading EPA critic to head agency & NYT: 'Trump Picks Scott Pruitt, Climate Change Denialist, to Lead EPA' & Wash Post: Trump names Scott Pruitt, Oklahoma AG suing EPA on climate change
Trump's pick of Pruitt finally means that a Republican President is standing up the green establishment! Historically, EPA chiefs have been among the most pro regulatory members of past Republican presidents from Nixon through Ford, Reagan and both Bushes. Trump has broken the cycle!
No longer do we have to endure GOP presidents avoiding battle over the green agenda by picking EPA chiefs that were timid at best. We know how bad GOP EPA picks have been in the past because many former GOP EPA chiefs endorsed President Obama's EPA climate regulations. See: EPA chiefs who served under Republicans press for climate action
If climate skeptics were worried about Trump's meeting with Former VP Al Gore earlier this week, the pick of Pruitt is reassuring. Basically Trump listened to what Gore had to say at their New York City meeting and then he exercised his good judgement and did the exact opposite. Also see Climate Depot's new 44 page consensus busting 'State of the Climate Report' \

Kudos to Trump for standing up the well funding climate establishment by picking Pruitt.
The UN Paris climate change agreement and the EPA climate regulations claim to be able to essentially save the planet from 'global warming'. But even if you accept the UN's and Al Gore's version of climate change claims, the UN Paris agreement or the EPA's alleged climate regulations would not 'save' the planet.
University of Pennsylvania Geologist Dr. Robert Giegengack has noted, "None of the strategies that have been offered by the U.S. government or by the EPA or by anybody else has the remotest chance of altering climate if in fact climate is controlled by carbon dioxide."
In layman's terms: All of the so-called 'solutions' to global warming are purely symbolic when it comes to climate. So, even if we actually faced a climate catastrophe and we had to rely on a UN climate agreement, we would all be doomed! (See Keynote Speech by Marc Morano on the case for climate skepticism)
Even the proponents admit these EPA regulations are purely symbolic.
EPA Chief Admits Obama Regs Have No Measurable Climate Impact: 'One one-hundredth of a degree?' EPA Chief McCarthy defends regs as 'enormously beneficial' – Symbolic impact
Former Obama Energy Chief slams EPA climate regs: 'Falsely sold as impactful' – 'All U.S. annual emissions will be offset by 3 weeks of Chinese emissions' Former Obama Department of Energy Assistant Secretary Charles McConnell: 'The Clean Power Plan has been falsely sold as impactful environmental regulation when it is really an attempt by our primary federal environmental regulator to take over state and federal regulation of energy.' – 'What is also clear, scientifically and technically, is that EPA's plan will not significantly impact global emissions.' – 'All of the U.S. annual emissions in 2025 will be offset by three weeks of Chinese emissions. Three weeks.'
And after all the green stimulus bills, subsidies and regulations, overall energy use has not really changed all that much in over 100 years.
Reality check: In 1908, fossil fuels accounted for 85% of U.S. energy consumption. In 2015, more or less the same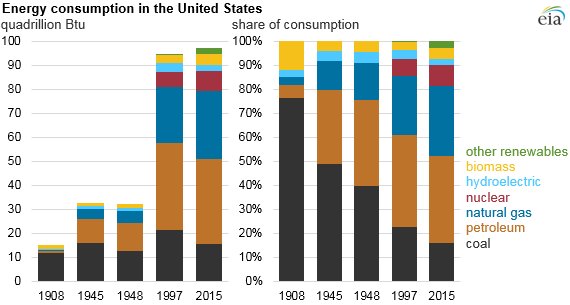 End Morano Statement
#
Related Links: 
I noticed these numbers coming up for Ontario for how many deaths were caused by air pollution. What struck me — was knowing that air pollution levels were very low in Ontario — but they were extremely high in 1960s. So I took the same model and fed in the 1960s air pollution levels into it: How many deaths would you get? I did the calculations and you quickly get more deaths from air pollution than you were death from all causes.
In other words, the streets would have been littered with bodies from air pollution if it was actually that lethal. The problem with all of these models is they are not based on an actual examination of death certificates or looking at what people actually died of — these are just statistical models where people have a spreadsheet and they take in an air pollution level and it pops out a number of deaths. But there are no actual bodies there, it is all just extrapolation.'
#