Flashback 1974: U.S. Government's Top Climatologist Said 'Global Cooling' Threatened Us With 'Severe Food Crisis'
Read the Full Article
'Global cooling is causing causing erratic weather changes...early frosts from Texas to the Dakotas, typhoons in India, drought in Siberia...are evidence of the unfavorable shifts in the Earth's climate'
The Pittsburgh Press - October 9, 1974 - 'Experts Watch Gradual Global Cooling' - 'Shifts In World Climate Since 1945 Help Explain Severe Food Crisis' - By Peter J. Bernstein - The devastating food shortage that has millions of the world's poor in its grip is directly related to what climatologists increasingly suspect is a gradual global cooling process that is causing erratic weather changes from one year to the next. Early frosts from Texas to the Dakotas, typhoons in India, drought in Siberia, expansion of the desert south of the African Sahara are evidence of the unfavorable shifts in the Earth's climate that have been occurring since 1945, U.S. weather experts say. 
The drop has already shortened the growing season in England by two weeks and caused a dangerous southward shift of monsoon winds in rice-growing regions of Southeast Asia. 
Here in Washington the economic and political consequences of global weather changes are increasingly obvious as U.S. Agriculture Department experts post the latest disappointing estimates of world grain crops. The wheat estimate for instance, released this week, is down nearly four million tons from last month's. And world grain productions this year will fall more than 25 million tons below last year's crops, department figures show. This shortfall is more than the food need for 100 million people in hungry nations. Altogether 400 million, or one-tenth of the world population are believed to be undernourished or starving... "We're skating on a very narrow margin" says Dr. James D. McQuigg, the government's leading climatologist.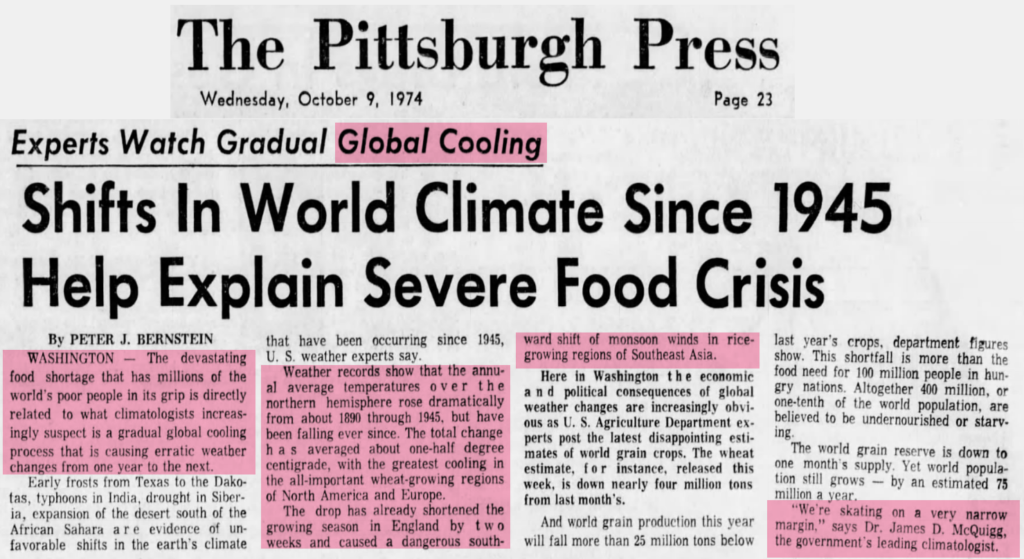 In 1974, the government's leading climatologist James McQuigg said that global cooling threatened to starve us to death.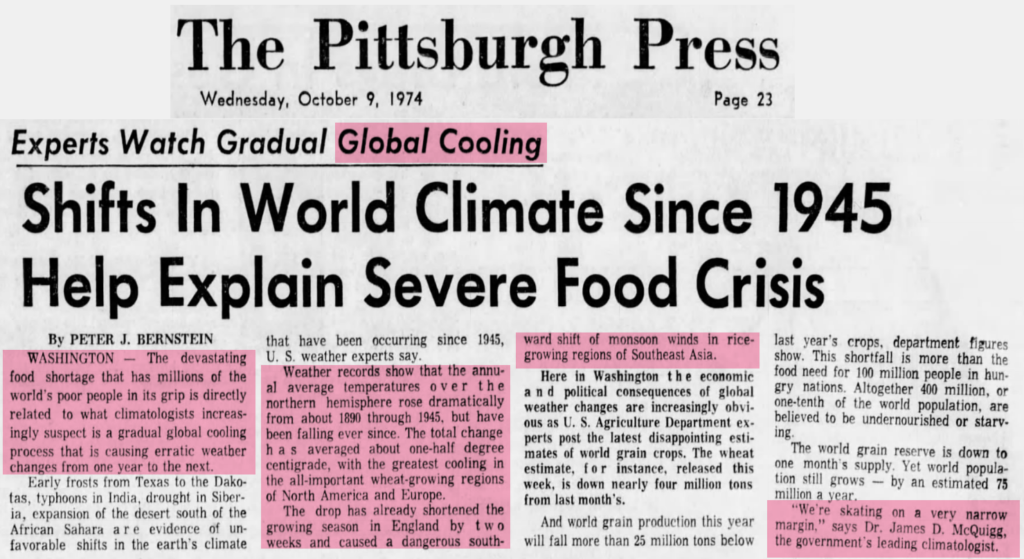 9 Oct 1974, Page 25 – The Pittsburgh Press at Newspapers.com
NASA has erased this cooling, because it doesn't fit the White House agenda.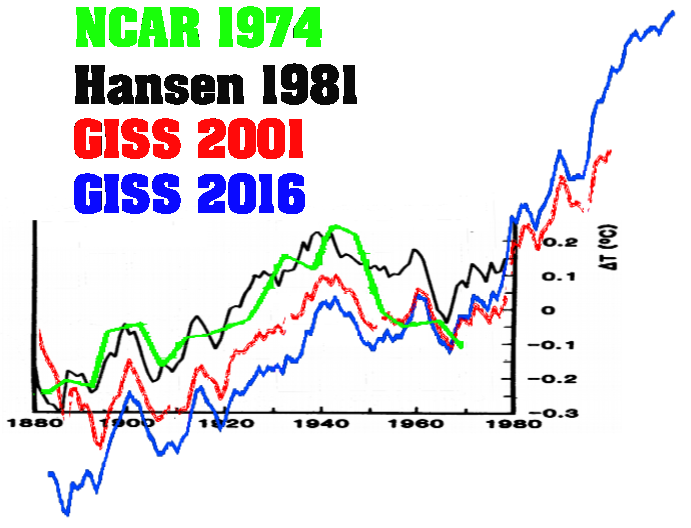 1981: 1981_Hansen_etal_1.pdf    2001: Fig.A.ps     Current: Fig.A.gif  1974: NCAR 1974